We were introduced to Oakman Inns by Alex Ford on his transition to the company. Our first task was to work with Malcolm Schooling on formulating a sound system format that could be adopted across the estate. The company policy on TVs is a minimalist provision in the trade area and premium in their high quality hotel rooms.
Oakman Inns, the company, invest a lot of money into high value refurbishments, ensuring that each site has a stamp of uniqueness to which the customer can readily identify. They do not hold back on getting this unique aspect across. More recently, they completed The Lost Boy in Farnham. The garden was designed by Kate Gould, a Chelsea Flower Show Gold Medallist and the stairwell wall paper is bespoke, (I remember speaking with the decorator who was putting up this expensive wall paper, and he was very nervous!).
Our relationship with Oakman Inns and the team they have created is strong. We look forward to a bright future with them.
The Lost Boy, Farnham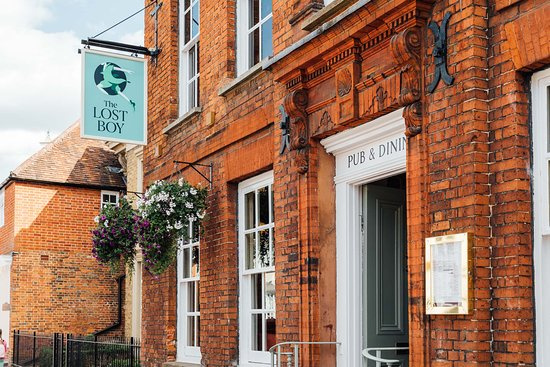 We were commissioned to provide an indoor sound system with a function room over four zones. Clearly stated in the brief was the prerequisite that the solution was to be design led with three clearly defined zones on the Ground Floor and a further zone in the function room with 55" LED TV.
The design called for Bose speakers in flush mounted ceiling positions where possible. We worked closely with the designer and Martin Burgis of Peter Gunning & Partners who project managed this work.
A beautiful, sophisticated venue with an elegant, effective audio solution. I am proud of this one and the way our system fits in the decor and finish of the site.
Beech House, Hampton Hill
A singular challenge, The Beech House in Hampton Hill had a requirement to mount the speakers at high level to keep them out of eyeline. However, whilst a limit was on the licence of the premises, we were required to control the SPL (Volume level) within strict parameters to help our client maintain a good relationship with their neighbours. This is a key ethos of Oakman Inns and particularly sensitive in this venue.
The twelve wall-mounted Bose DS40SE loudspeakers were integrated with Bose DSP to allow zone control with timer-based volume limits and on/off settings that remove much of the control from the user.
Four Alls, Welford-Upon-Avon
Such an interesting place. The pub is in Welford and situated right next to the river Avon. One of the hardships on this site was flooding. The site has been designed specially to accommodate this. The bar has the ability to be secured against water ingress. So the site may flood but with defenses in place, the bar and it's stock may be protected. Ingenious.
None of our hardware was sited at low level on the Ground Floor. We installed a premium Bose sound system associated with all Oakman sites. and an eight foot projection system for meetings with an HDMI input plate on CAT6.
Drew Keen of Keen as Mustard played a large role on this site. We worked closely with him and his team to deliver an effective and robust solution that sounds fantastic.